Spring Classroom Door Ideas: Fun and Easy Classroom Decoration
Our classroom door gets different decorations depending on the season or holiday of the moment. We chose to make ours with some Spring classroom door ideas, it seemed the easiest.
A child-parent team gets to pick their favorite time of the year and decorate the classroom door with that motif.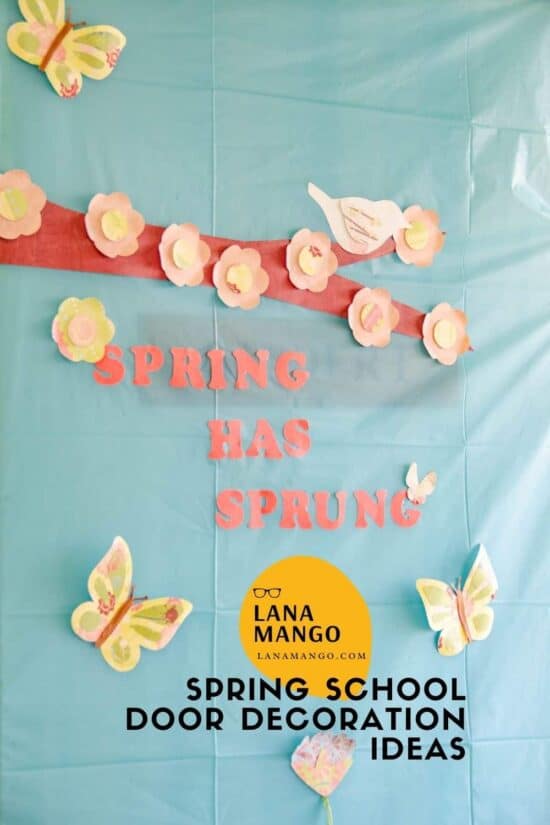 Some of the past classroom door decorations in our school have been simply astounding, this is the second Spring-themed classroom door idea this year, the previous one being for carnival. I don't know who did that one, but it had a large traditional carnival mask decorated with flowers that was toots Pinterest-worthy, the next spring door decor is probably going to be the Easter classroom door, followed by Earth Day. I am looking forward to those.
Our school door spring decor
For our door design, we worked with scrapbooking paper to make spring flowers, flower petals, butterflies, and the bird, as well as the tree branch. The flower stems and the grass are pieces of green raffia. For the blue sky, the door was covered with a blue shower curtain liner (Amazon affiliate link), that way we get the right color and don't damage the door.
Most of the parts are made of two or more papers and stuck with thick double-sided tape to give it a bit of volume. I hand-drew all the parts on the reverse of the paper and cut with scissors, except for the flowers and letters, for which I used cookie cutters to trace them.
Here are some more ideas for classroom decorations that I found on Pinterest and loved so much I wanted to share them.
Easy Spring classroom door decorations
Some Spring classroom door decorating ideas include one or more combinations of April showers doors decorations, raindrops, and umbrellas, picket fence, butterflies, caterpillars, rainbows, may flowers themes, and the Lorax, a popular choice. All of these would be great for daycare, kindergarten classrooms, as well as any preschool level.
Credits: Art gone loco, Pinterest
Spring classroom decor ideas
The theme doesn't have to be limited to decorating the door! Kids will love some of these spring bulletin boards ideas, and some of these projects are easy enough to make even toddlers part of the execution and transform any classroom into a toddler or child wonderland.
Materials for Spring classroom ideas (Amazon affiliate links)