Easy Crochet Jewelry Ideas, How to Make Inexpensive Handmade Crochet Jewelry Gifts
I am a huge fan of handmade gifts. They are meaningful, and unique and these crochet jewelry ideas will help you make some easy crochet jewelry to gift your loved ones.
Some of my examples are very easy to make and require no pattern at all, others just require free crochet jewelry patterns that are easy to use. And unlike wire jewelry crochet, these are made with regular crochet yarn, and some beads that you can reuse from old, vintage or broken pieces.
How to crochet jewelry with thread or yarn
I asked if you had any ideas on combining crochet and beads to make jewelry and some of you dug up some great suggestions. Inspired by some of those I made these boho crochet necklaces. They are very simple, the perfect crochet jewelry for beginners, and I had the beads and yarn that went perfect together.
For these pattern free crochet jewelry pieces I only used a chain with thread that matched or complemented the color of the beads. They close in the back with jewelry hooks reused from old and broken vintage jewelry.
For a fan of handmade jewelry these are a fabulous holiday gift, and easy to copy if you want to try it yourself.
I make this multi-strand necklaces with some old leftover chenille yarn. The beads have a really nice pearlescent sheen that had the same blue reflection as the chenille yarn. It is organic, very light, and soft, and it reminds me of sea life.
Perfect idea if you're looking for inspiration on how to crochet jewelry with beads and want to make a cute free crochet necklace.
It can be worn loose, or twisted like a cord for two different looks.
Easy crochet jewelry patterns
These are some other easy crochet jewelry patterns I've found over the webs, and I wanted to share.
Free crochet earring patterns
I loved these super easy crochet earrings by Crochet by Colleen. They are so easy and simple to make, and you can even use old earring hardware, or even find them at flea markets and second-hand shops.
Check this amazing collection of free crochet earring patterns that Divine Debris put together!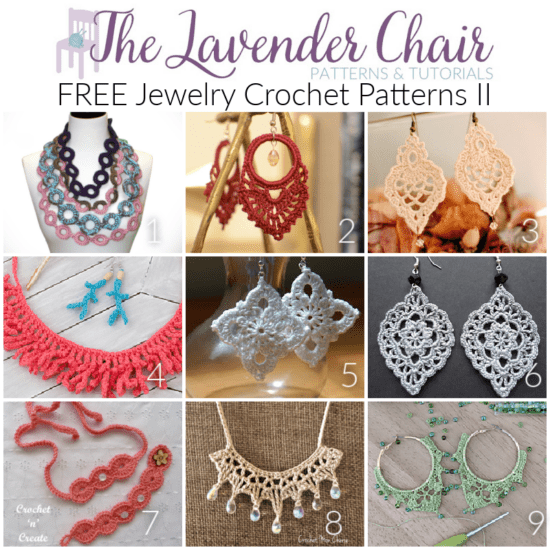 There are so many great ones in this free pattern collection by The Lavender Chair!
Free crochet bracelet pattern video
Can't leave bracelets out. Check out these great free crochet bracelet patterns that I loved.
Lovely bracelet that are very easy to make
More free patterns
More beautiful patterns that I absolutely adored.
Fin them here:
Pattern 1 |Pattern 2 |Pattern 3 |Pattern 4 |Pattern 5 |Pattern 6
I am loving my free crochet necklaces, they so easy to make, everything is reused (hence free), and so versatile. And I also love these many other ideas from some seriously talented creators. Check them out too!