5 Cute Bags for Little Girls: How to Make Little Girl Tote Bags They'll Love
We (Mango Mom and I) made all these tote bags for little girls as a gift for cousins every time we needed a thoughtful gift that was also meaningful.
Some are more complicated than others, so there may be one to your sewing level. I hope they inspire your next sewing project.
Cute bags for little girls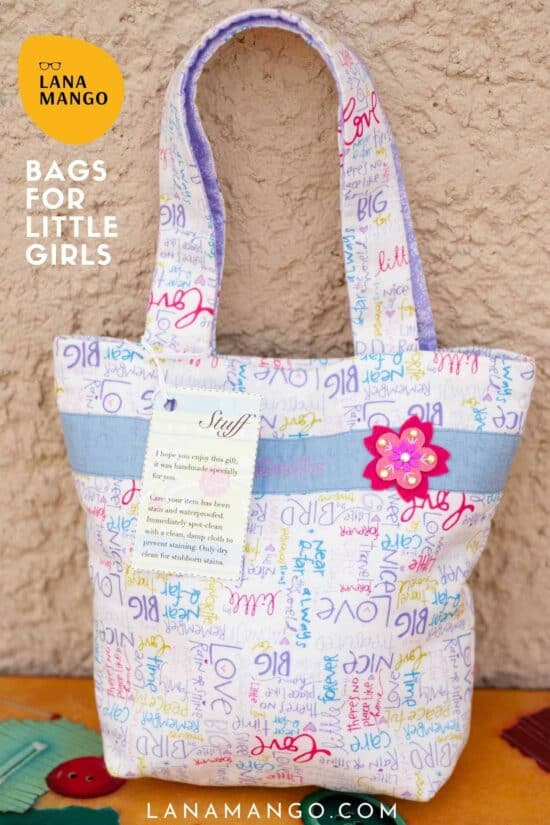 For the little "Fancy Nancy" cousin a handbag in a print full of girly words and doodles.
A blue ribbon on which we machine-stitched her name, and a felt flower complete the girliest-girly look. I used fusible fleece (Amazon affiliate link) on both to make the fabric stiff.
In the back we made a pocket that closed with a button the same color as the ribbon and an elastic loop. Matching the print over and on the pocket was one of the most difficult parts. Both bags have back pockets.
Inside another pocket. The purse closes with some velcro.
For J, the tomboy, a a pretty birdie print.
This bag is slightly smaller than the other, but the construction and features are very similar. Same pockets too.
These bags are relatively easy to make, what makes them stand out is the choice of fabric. Some of the fabric (the lining) I bought from ebay, the rest from another online vendor, but it appears to be discontinued.
The tag was printed on scrapbooking paper (Amazon affiliate link). It has a small note and cleaning instructions.
These were fun to make, but if you're looking for something much more simple, here are a few:
Little girl tote bags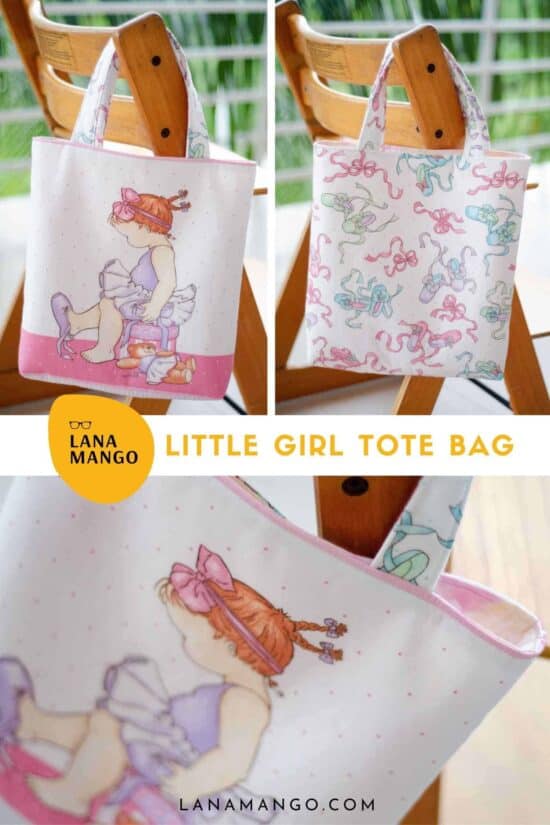 This was for a ballet-obsessed little girl. It was made with some quilting panels from eBay. The front is a panel, the back a quarter-yard from a complementary fabric. The interfacing used made it a little heavier and thicker.
Still looking for something even easier? Look below…
These are even simpler totes with no interfacing. They are made from some cute quilting fabrics, and don't take long to make.
Fabrics to sew little girl bags
Shop these at Amazon (affiliate links):