How to DIY Hippie Costume: How to Dress in Hippie Style
If you're looking for ideas to DIY a hippie costume for a party, school spirit week, or Halloween, you can find here everything you need to know about the hippie style. Hippie fashion has made several comebacks. As the saying goes, "old hippies never die," and elements of this style have endured and evolved over time.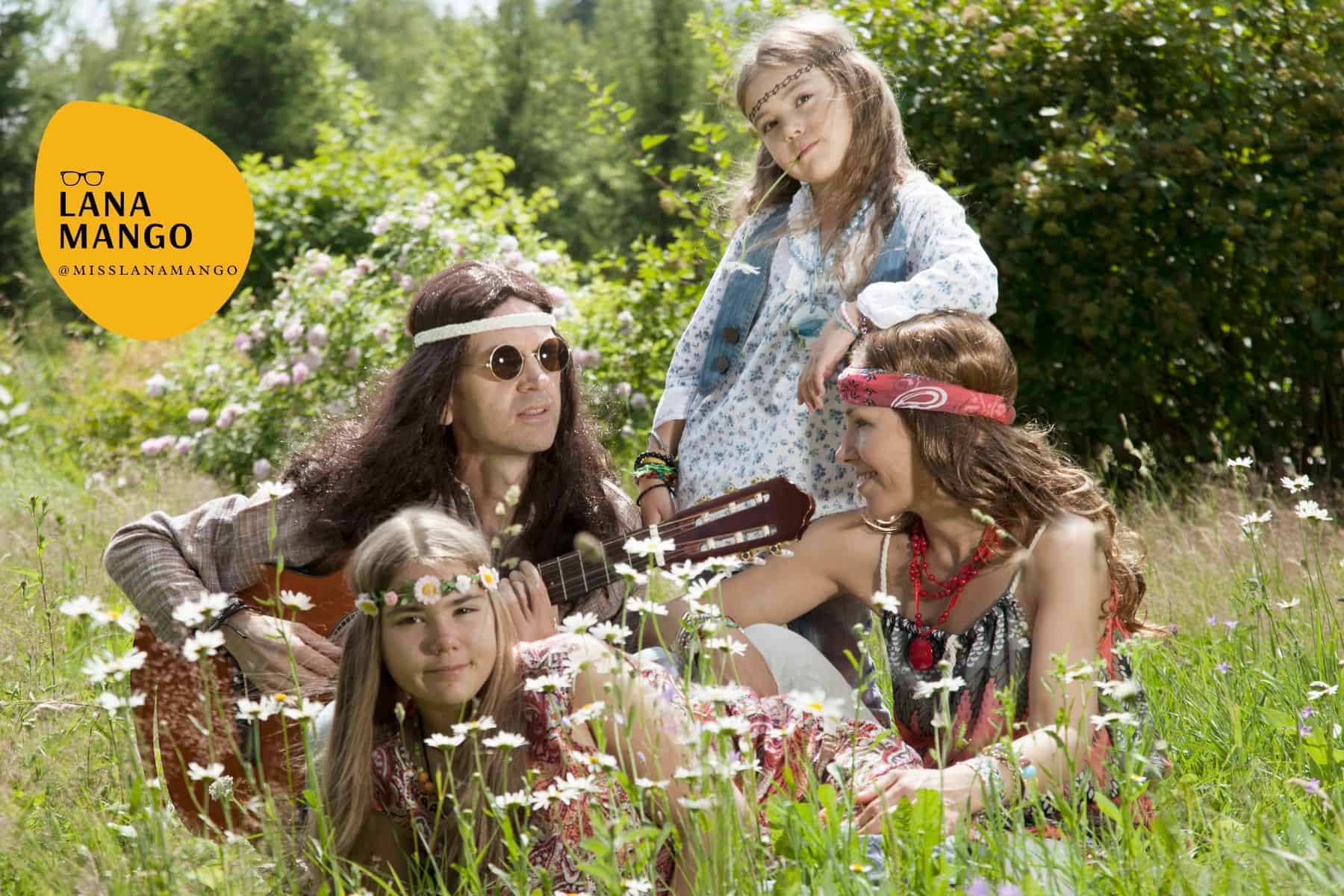 Back in the late 1960s, society was undergoing radical changes and young people started dressing very differently. Those who adopted these colorful, free-flowing, scruffy styles were known as hippies. It was part of a youth movement inspired by opposition to the US involvement in the Vietnam war.
You can find all the information you may need about the hippie style, and lots of pictures to inspire you to create your DIY hippie costume, or party.
Flower children
The hippies of the late 1960s, also known as flower children, were not the first to wear clothes that their parents considered outrageous.
In the early 20th century, the rigid dress codes and conventions of the Victorian age were shattered, most notably by the flappers in the 1920s who jettisoned their armored undergarments and daringly exposed their ankles and calves, wearing shorter slim-fitting, low-waisted dresses, and skirts.
Pants for women started becoming a thing in the 1930s as exemplified by icons like Katharine Hepburn, although at the time it was still considered daring.
The hippie era
From the mid-1950s to the mid-1960s, the Beatnik (also known as the Beat Generation and hipsters – the original ones!) look was casual but sleek, scruffy but stylish, monochrome, and somewhat androgynous. This is what inspired the early Beatles' image, and the Beatles themselves went on to influence fashion later in the decade after they and other musical stars of the time started adopting hippie styles.
At the end of the 1970s and 1980s, hippies converged with punks to inspire the new wave and heavy metal styles of the time. And in the 1990s, grunge shared many elements with hippie fashion. In the 21st century, hippie influences are alive and well in what is known as boho and hipster styles.
How to dress as a hippie with normal clothes
It's easy to dress up as a hippie for your school Spirit week, a costume party, or for Halloween using clothes you may already have to hand and a touch of creativity and improvisation. With the right accessories and our tips and tricks, you can transform yourself into a convincing hippie.
Here we give you some background on what the hippies were about and show you how you can pull off the look.
What you'll need
The first rule is that… there are no rules. For the 1960s hippies, the whole point of dressing this way was to break the rules of the time. Up until then, young men and women were expected to wear formal, modest, and neat outfits. Unconventional garb was mostly restricted to artistic, bohemian circles.
Dressing like a hippie was about breaking the rules, shocking the older generation, and embracing freedom. Allow us to list some guidelines:
Hippie girl and Hippy guy
This style is what was known at the time as "unisex". Girls and guys usually wore the same style of jeans, and men would wear flowery, colorful print shirts that would have been viewed as feminine. Apart from skirts and dresses, many of the following tips apply to both girls and guys. The color scheme should be psychedelic, with purples, pinks, and oranges dominating.
DIY hippie costume
You may find some of these clothes in your own wardrobe or borrow them from older relatives and friends who may even have some authentic treasures from their own misspent youth stashed away, so don't be afraid to ask. Accessorize to complete the outfit. Other good places to find the right clothes are thrift shops or garage sales.
Tops, dresses, pants, and skirts tended to be loose-fitting, in bright colors and light, natural fabrics like cotton, cheesecloth, linen, and raw silk. Crushed velvet was another popular choice. Ethnic prints and peasant embroidery for clothes and accessories are an essential element, and tie-dyed t-shirts are practically synonymous with the hippie image. You could even try making your own, it's easy enough.
Combine and contrast these flowing fabrics with utilitarian clothing like denim jeans/cutoff shorts for girls in summer, and workers' overalls, denim or leather (or faux leather) jackets or vests, and even army surplus.
Try and make sure that the clothes do not look too shiny and new. They should be as worn and faded as possible.
For winter
In cold weather, keep warm while projecting an unmistakable hippie look with suede jackets with fringes, Afghan jackets and vests, or chunky Andean wool sweaters.
Hippie accessories
These are some basics accessories to diy your cute hippie costume.
Lots of multicolored beads, such as "love beads," and ethnic jewelry for necklaces, chokers, bangles, bracelets, and anklets. Peace medallions.
For shoulder bags, choose a simple canvas tote bag with a suitable slogan (e.g., "Make Love Not War") or image (peace sign, yin and yang, flower or love heart), a suede shoulder bag with fringes, or woven or embroidered bags from places like Greece, India, or Latin America.
Adorn your head with a headband or a cotton bandana and wear an Indian scarf, shawl, poncho, or sarong.
A straw hat, felt hat, crochet cap, or beanie complete the look, especially if you wear John Lennon / Janis Joplin-style sunglasses.
Make and sew patches with flowers/peace signs/love hearts to stitch or stick onto jeans and denim jackets/vests.
If you have a guitar, hand drum, or a tambourine, bring them along.
Hippie shoes and footwear
Flat leather (or faux leather) sandals
Espadrilles
Swedish clogs
Moccasins
Canvas sneakers
None of the above (barefoot)
Hair / wig
Male dress conventions were being challenged during this decade, with the appearance of longer hairstyles and natural afros replacing traditional crew cuts and neat, short back and sides.
In fact, long hair on men, along with a perceived lack of personal hygiene, was what appeared to scandalize people most when hippies first started to get noticed. The phrase "dirty hippie" was what people who dressed like this were sometimes met with in the early days.
Hippie hairstyles for long hair were free-flowing and mostly non-styled, whether you had straight or wavy hair. Big afros were the African American answer to the natural-oriented styles of the 60s.
Style your own hair or get hold of a wig. Aim for natural, long and loose, either straight or curly, and if you have the hair for it, rock that giant fro so popular at the time, or wear a headband and a flower.
Makeup
Any make up should be light and very natural. Face paint with a flower, love heart, or peace sign on one cheek.
Hippie motifs
Peace sign
Flower power
Love hearts
Yin and yang symbol
Patchouli oil
Incense sticks
The "War is not healthy for children and other living things" poster.
A "Stop the War" sign.
Also see