Making a Cover for a Dress Form
Did you ever wonder how to make a cover for a dress form? I did, and every idea I found was more complicated than the other. This is the easiest how-to to cover a mannequin in fabric. This is my dress form. Her name is Bertha, and she came in the mail last week. Bertha and I have some things in common, like dress size. Though I'd like to think that -unlike her – I have a good head over my shoulders.
I always wanted to have a friend like Bertha, to sew some nice clothes together and try my garments on her… But friends like Bertha are expensive, so when I found I could have her for less than $100 plus shipping, I decided it was time.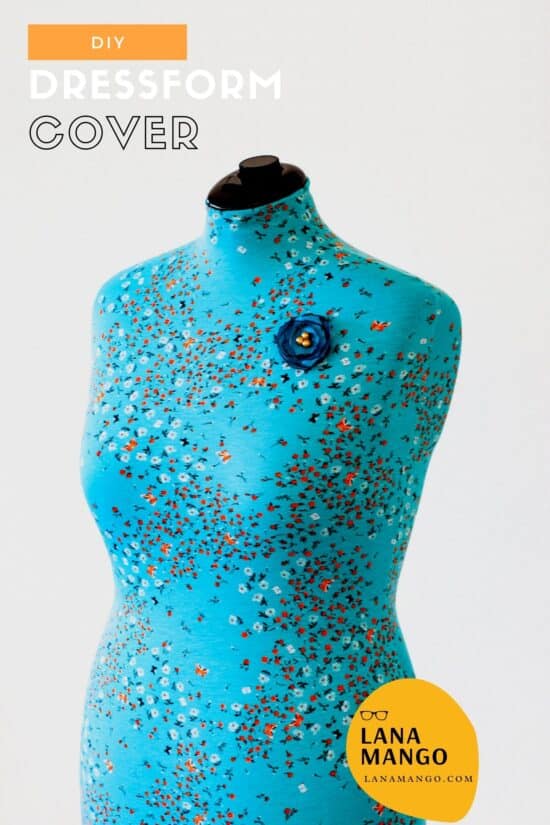 This is Bertha when she came to me. She's an adjustable dress form, a very basic one. She's not pinnable (bummer) and is covered in some ugly gray flannel on top of her plastic frame.
You can see the gaps where the adjustable plates join, on top of that, the gaps are more pronounced after I adjusted her to my size (I am bustier). I needed to do something about it.
How to make a DIY dress form cover
Unfortunately, though I searched all over the internet, I couldn't find anything about how to cover a dress form that wasn't super complicated. Then this occurred to me. The process to make this dressform cover was simple, and the photos were self-explanatory.
You'll need some stretchy fabric (Jersey or ribbed knit works best).
Cover the front of the dressform with the fabric, pinning alongside the side join (where the back and front plate meet), stretching as needed so it "hugs" the form tightly.
Then mark the cutting line between the pins. Cut piece. Repeat to make the back piece.
Join the two pieces by sewing the seams with the overcast machine. Serge the hem with looser threads.
Pass a thick cotton thread through loops in the hem.
Tighten and gather the fabric at the bottom. Tie the threads.
How to adjust the cover
The simplest way I've adjusted it was by putting on a bra under the new cover, which I padded to fill it to my larger bust. This type of adjustable dressforms can also be made into larger sizes, by separating the plates. I did not find it necessary in my case.
This is the second DIY mannequin stretch cover I made for her, following the same process.
While Bertha is not a pinnable dress form, the two layers of fabric (the pink one is underneath) means I can pin the fabric to the new cover in a pinch. So it's not only a matter of looking better.
I can now also wash her cover when necessary, and now that I see how easy this was, I can buy other fabrics and make a nice cover at any time. This may be the easiest DIY cover for a dress form yet.
Bertha hasn't said anything about her new looks (she's a shy girl), but I can tell she looks happier. What do you think?
Get your own dressform
Adjustable mannequins have the advantage that you can change their size to fit your size, and change them as needed. These are good options that you can purchase.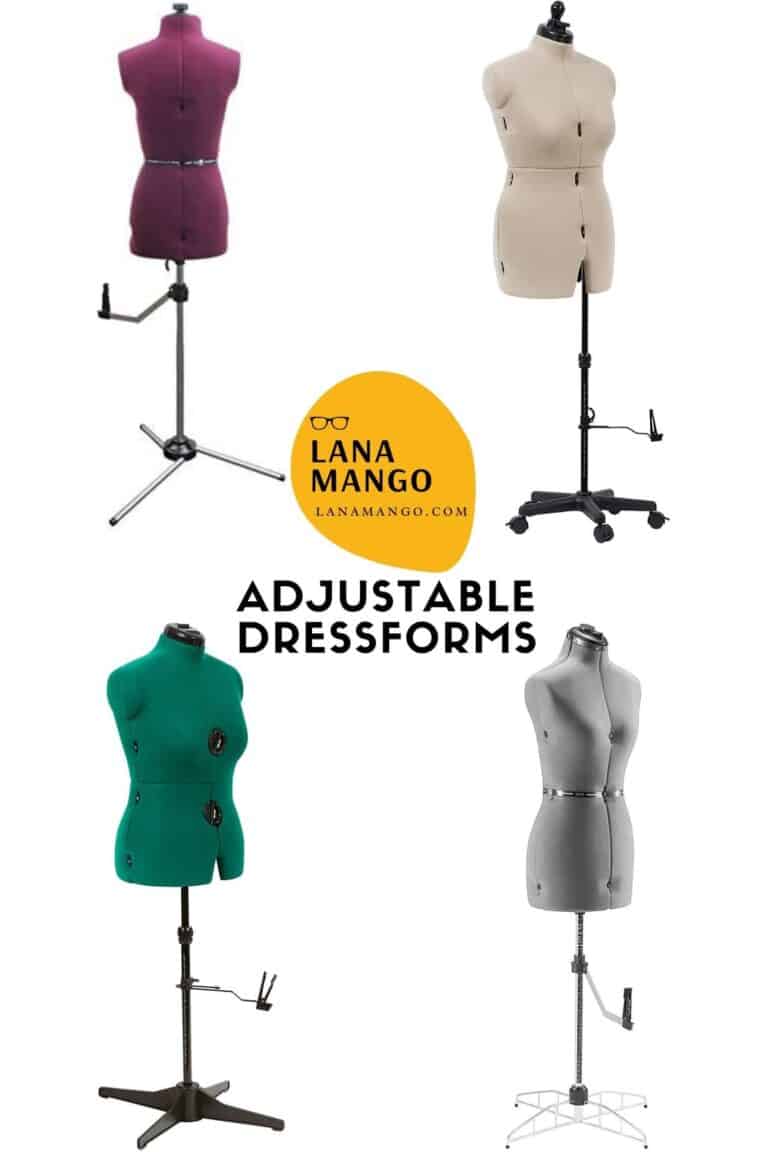 Please follow and like us: