100s of Easy Free Amigurumi Patterns: Free Crochet Amigurumi Guide for Beginners
If you love crocheting, I am sure you love these painfully cute crocheted toy characters. Even when made following the same pattern, they'll always be a one of a kind gift. Let me share with you this wonderful variety of free amigurumi patterns for you to try.
I love handmade gifts, and crochet gifts are some of my most favorite.
What's amigurumi?
Amigurumi is the Japanese name for stuffed crochet characters, animals and dolls. The word amigurumi come from mixing the word ami (crocheted or knitted), and kurumi (wrapping). Amigurumi are generally small, but sizes vary from the very tiny, to the very large.
What you need
To make amigurumi you'll need crocheting implements:
Crochet needle
Stitch markers
Stitch counters
Scissors
Darning needle
You will also need materials for crocheting:
Yarn (usually cotton, but sometimes textured yarns are used), it'll depend on the pattern and effect you want to achieve.
Stuffing is also needed, and the kind will depend on the pattern-maker preference, or your own. Polyfill is a common amigurumi stuffing.
You will also need a pattern, unless you can create your own.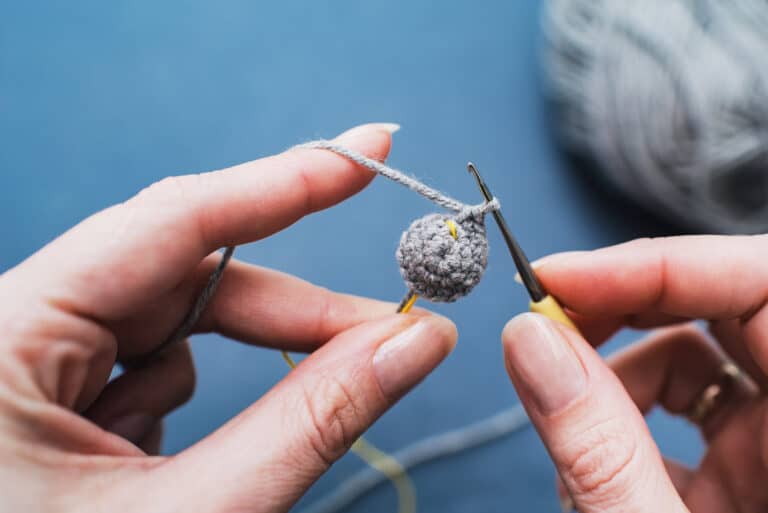 Learning basic crochet for amigurumi
Generally speaking, amigurumi are made with the single crochet stitch, and while it may take some time to master your technique to get your tension right, you generally just have to learn how to crochet chains, magic circles, single stitch, reduce, increase, and crochet in the round.
Here's a good tutorial to start, this will teach you the magic circle, the base for all amigurumi patterns and to learn how to crochet in the round.
Single crochet stitches for amigurumi
This tutorial will teach you how to start a basic amigurumi shape, and how to crochet single stitches in the round, and how to count and follow paid or free amigurumi patterns.
Also see this tutorials:
Crochet amigurumi dolls
Check out these beautiful free amigurumi doll patterns to make the cutest dolls you can imagine, from the basics, to taking it to the next level.
Pokemon crochet patterns
The every popular Pokemon is a very common theme with amigurumi, check out these free Pokemon amigurumi patterns.
Dogs and cats patterns
The internet is for cats and puppies, and the adorable domestic creatures are very popular amigurumi pattern.
Bunny rabbits patterns (and carrots)
Bunnies are so cute, fluffy, and have the most adorable ears. They are so distinctive that you can make them quite simply and yet recognizable.
Bear, panda, and teddy bear patterns
A classic toy, bears and teddy bears are wonderful amigurumi characters, and can be made in so many ways!
Farm (cow, horse, sheep, goat, etc.)
Farm animals make classic toys, and here are some amigurumi versions to bring joy to a child of age or at heart.
Forrest (owl, fox, frogs, deer, mouse, otter, raccoon, reindeer, etc.)
Who doesn't love forrest creatures? Imagine how much more adorable they are in amigurumi form.
Ocean (jellyfish, stingray, octopus, whale, shark, fish, turtles, mermaid)
The world's cutest octopuses, whales, sharks, fish, turtles and mairpeople, in every color of the rainbow, a variety of sizes and looks.
Jungle and savannah (giraffe, elephant, sloth, zebra, lion, etc.)
All the lovely jungle animals in amigurumi form, and they are all so cute!
Birds (penguin, chicks, chicken, angry birds, etc.)
Even real penguins already look like cartoon characters, no wonder they are some of our favorite toy characters, and, well, other birds, too.
Bees and bumblebees pattern
Make a medium-sized amigurumi bumble bee with the basic shapes. It uses chunky yarn to make a larger bee with less work.
Dinosaurs and t-rex
A favorite with kids, check out these dinosaur and t-rexes at their cutest.
Tiny and small amigurumi crochet patterns
No time to spend on a longer project, check out this tiny and small amigurumi toys you can churn out in no time.
More free amigurumi patterns easy and quick
See a lot more crochet amigurumi free patterns here:
Free amigurumi patterns
While there are some amazing paid amigurumi patterns out there (you can see at the end), there are also many great free amigurumi patterns available on the internet.
For the absolute beginner, these are some streess-free easy amigurumi toys you can make, as well as hundreds of free crochet animal patterns.
These are some of my favorite free amigurumi patterns, some are video tuturials, some photo tutorials, some are downloadable pdf
FAQs
Can beginners do amigurumi?
Yes, beginners can do amigurumi! There are amigurumi patters that are very simple, which allows you to practice to make the more complex ones.
Is amigurumi crochet or knit?
Amigurumi can be knit or crochet. The most common are crochet amigurumi patterns though.
Is amigurumi hard to make?
How hard amigurumi are to make depend on your abilities and experience, and the pattern you choose. If you have no experience whatsoever, you should start by learning the basics: magic loops, single crochet, increasing and decreasing.
How do I start an amigurumi?
Crochet amigurumi are started with a magic loop, onto which a few single stitches are made, then tightened to make a tiny circle.
Where can I getamigurumi patterns for free?
This article has a whole lot of free crochet patters from the basics, to more elaborate ones.