Small Bathroom to Spa Ideas – Easy, Inexpensive Ideas for a Relaxing Bathroom
Making a tiny bathroom into the kind of bathroom experience that suggests relaxing times at a spa was more a matter of combining the right elements and less about spending a lot of money on a remodel. Let me share a few spa bathroom ideas and interior design inspiration that you can too implement in your own home, regardless of the square footage of your bathroom.
You would think that a little sprucing this tiny bathroom — the smallest room in our home — would be quite easy. A day at most. After all, this is a room that is smaller than some closets.
The thing is that a room this small has its own challenges, not least of which is the difficulty to maneuver around things. A few tricks here and there, a couple of days later, some paint, and a few upgrades, along with bumps and bruises and we arrived at this.
I painted the walls a sandy color that continues the tones from the bathroom tiles. I thought best to stick to a limited palette. I also stained the woodwork to a darker, richer brown, more in tune with the space than the previous honey oak. On a shelf, I placed jars with small bathroom necessities (like cotton swabs), and a blue bottle with some twigs. Behind it, on the wall, a small lithograph I already had became the focal point of the bathroom.
The oak mirror had already had an accident and got some nasty dings. Instead of fixing them, I played it up by applying the stain in a way that suggests it's an old piece.
On the stone countertop, was an old mirror that had a broken side and that I repaired and cleaned. The shell-shaped dish serves as a caddy to corral hairpins, bits, and bobs.
On this a wall, next to the sink vanity and over the hand towel, two mismatched Ikea Malm mirrors I had elsewhere, which I painted white and glued a seahorse and starfish on. Don't worry, they are made with resin, no cute seahorses were harmed in the making of this.
On the floor a new floor towel with appliques in the shape of footprints instead of hardly-washable rugs and mats.
Tiny bathroom inspiration
Here are some ideas for making a small bathroom into a spa-like serene space.
Wood
Adding the warm tones of dark wood and natural materials is one of the best ways to give a space a serene, spa-like atmosphere. It doesn't have to do anything expensive, a bamboo ladder is perfect to hang towels.
Shelves
Shelves too can be inexpensive. A free-standing shelf is perfect for organization, displaying decorative items, and putting on some plants. If there's not enough space for that, installing a smaller shelf on the wall above the toilet can do a similar job and reclaim an often-unused space.
Colors
You may not have control over what color your bathroom walls would be, but if you do, painting them white or cream colors make the room brighter and more relaxed. A few splashes of earthy colors in the form of a basket tray for organizing will prevent it from becoming too boring, and add storage. Small mirrors on the wall will bounce light and are great wall decoration.
Plants
If you have some natural light in your bathroom, there are a lot of plants that will love the humid, warm atmosphere in bathrooms, but in a pinch, a few decent artificial plants will bring that calm, relaxing touch of greenery that reminds us of luxurious spas.
Scents
Relaxing scents are essential for a true spa-experience atmosphere. Bring in some aromatic candles, (lavender is a popular one. If you have a tub, put a candle next to it when taking a bath, if not, pick a safe spot to add a well-protected candle that you can light when taking a shower for that relaxing mood. Essential oils diffusers can also be a great addition to a luxury bathtub time.
Bath products
What's a spa without those extra special toiletry products? A gorgeous set with hand soap, lotions, body wash covers the basic necessities. I absolutely love bamboo toothbrushes and use them at home. They are not only gorgeous but are so much more environmentally friendly!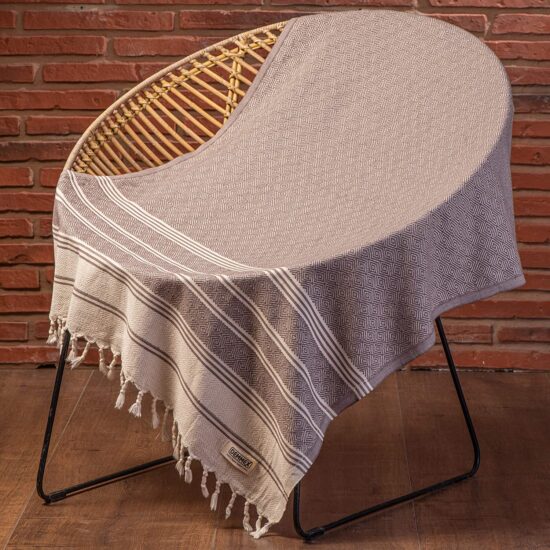 Towels
What's a spa experience without luxurious towels (if you have a towel warmer, lucky you! Nothing like a warm towel after a bath). For a small bathroom Turkish towels come highly recommended. They occupy a lot less space, dry faster, and are very absorbent (and did I mention gorgeous?). For myself, I prefer good quality, plushy white cotton towels.